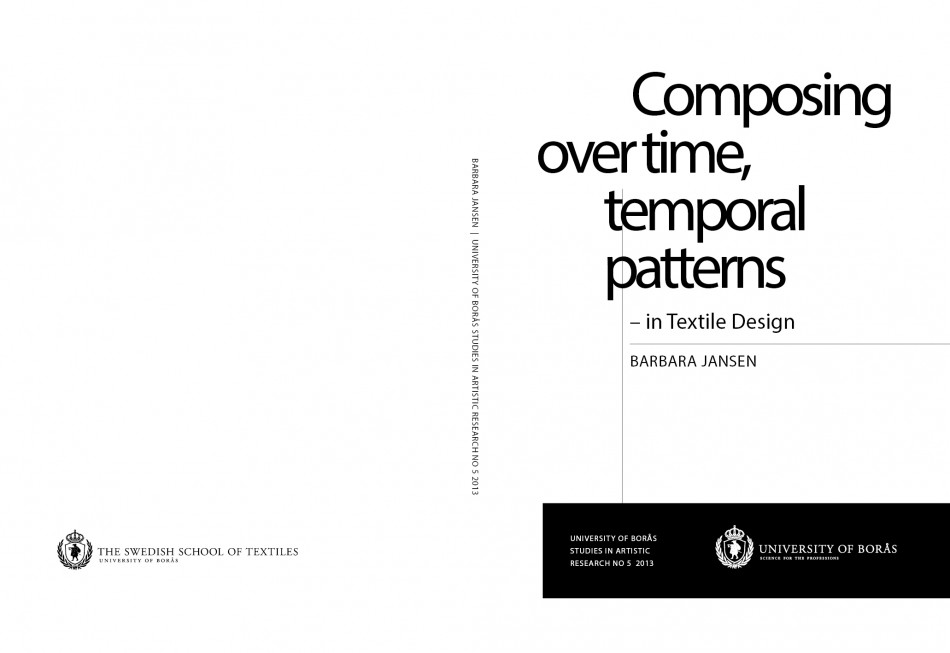 ABSTRACT
The work presented in this thesis is a first attempt investigating a new field, exploring the visual effects of movement using light as a continuous time-based medium. Composing over time, temporal patterns – in Textile Design is a practice based research project that investigates the following research question: What does it mean, if time and change – constant movement – becomes part of the textile design expression? The research question has been investigated in a number of experiments that explore the visual effects of movement using light integrated into textile structures as a medium. Thereby, the textile design pattern reveals its composition, not in one moment of time any more, but in fact over time. This thesis aims to create time-based textiles with an emphasis on developing aesthetics of movement –  or to establish movement as an aesthetic moment in textile design.
Two distinct groups of experiments, colour flow and rhythm exercise, explore a range of different time-based expressions. The experiments have been  displayed and explored using woven and braided textile structures which have been construct mainly through the integration of PMMA optical fibres.
Through the design processes a first platform and understanding about time as a design material has been developed, which allows composing time-based patterns in light design. New design variables, notions and tools have been defined and established. The achieved new expressions will hopefully lead to discussions on and envisioning of future textiles, opening up the general perception of what textiles are supposed to be like, to show, to express etc., i.e. expands notions of what it means to read a piece of textile work.
Keywords: Light-emitting, textiles, time-based, composing movement, PMMA optical fibres
Download thesis from: http://bada.hb.se/handle/2320/12236
Jansen, B. 2013. Composing over time, temporal patterns – in Textile Design. University of Borås, Studies in Artistic Research No 5, 2013